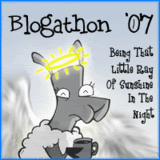 (Designed just for Snarkypants by Kamigoroshi)
As mentioned in the post right below this one, Cousin 'O Love and I are once again participating in the Blogathon because with age comes insomnia and what better way to put it to good use! In reading through the forums, I see that lots of people have themes. Hmmm. Should I or not? I can blather on for 48 posts (or 24 if CoL does her half) but blather on about one thing? Not sure that's gonna work. But NoAF is working on some contests or trivia or something (at least I hope she is because I'm not! haha) and we will be sure to entertain.
If you'd like to sponsor us this year, check out this link for more information on how to do that. I will, of course, be talking more about it as the time gets closer.
For a really good pledge, I will write a post in support of George W. Bush! How's that for a challenge? (But that one is gonna cost you!) (Barfs into a trashcan just thinking about it, realizes it's for a good cause and puts the trashcan away. Am I going to regret this? I think so.)