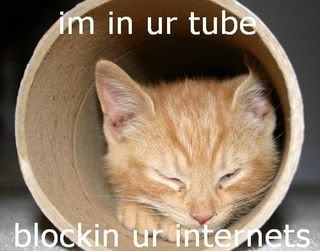 Greetings and salutations!
Someone recently told me that I have a penchant for numbering things. And so I do. (Of course, they might have bopped onto Thursday 13 where you are required to number things so that might 1. account for it and 2. lead them to think that everything I write is numbered.)
Anyway, to amuse myself, I'm listing a few things of note and hopefully, amuse you as well.
1. This site, Gratefulness.org is really very nifty. It's all about creating peace and abundance through gratefulness. Not so radical an idea, I know. Lots to look at and read on that site. Plus, some cool swirly
banner. I love the swirls, right Jen?
2. Oh Pumpkin Spice latte, how I do so love you. You're back! I love fall. (And this heralds the advent of (ta da!) Gingerbread Lattes.) Oh yes, size 89 pants, here I come! MMMM!
3. New post over on The Healing Change (crossposted at "Be the Change" where you will find lots of my more esoteric ruminations.) Rose's blog links to that site so I decided to write there and crosspost to THC. Today's post there is about "forgiveness". Check it out and let me know what you think.
4. Did you know I can fritter away over an hour just looking at the cat pics over on "I can has cheezburger"? I miss Lauren 24/7 (thanks for the call the other day, La!) but when I see things or websites I know she'd intuitively "get", that feeling multiplies threefold. Just yesterday, at Barnes&Noble, I saw a book journal – one for writing down the books you've read and your comments about them. And I almost cried right there on the spot because that item would only appeal to her. (At least, of those in my life, that is.) Damn, I miss her. (sigh) She'd so love the ICHC site.
5. I think we are going to take the jetskis out today … hopefully NG and Emma-nator will come along too. I know she'd love them. I can use an adrenalin boost of the non-caffeinated variety.
Okay, that's all for now. Better get my latte-loving, cat-laughing, Lauren-missing, jetskiing ass off the couch!