Ever wonder what it looks like from up on stage, facing a crowd of screaming women? Well, here's the picture taken by Dave himself with someone's camera that should answer the question. Although you cannot see me among the sea of chicks, I was seventh row back on stage right. Not bad seats at all. But general admission is a bitch and I say that as someone who did NOT get up at 4am to be in line to get admission passes.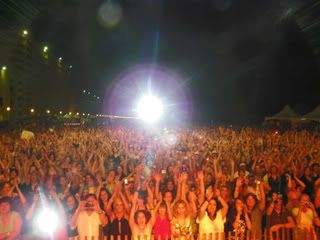 So, yeah. It was really a great show, despite having to bake in the hot sun for three hours listening to every song ever done by the Rolling Stones (they had very loud speakers blaring music). Thanks to my good DC concert going buddies, I didn't have to wait in line at 5am and I didn't have to make a dash for a good seat. YEY for them. The place was PACKED – the VIP section had 2500 seats (all taken) and lots more watched from rooftops, seats on the nearby beach and the boardwalk.
Matt Nathanson, who opened the show, really was awesome and if I weren't already dedicating my life to following one musician, I'd be right there with him. A great singer and just awesome entertainer. Here's a link to a YouTube video of a song called Falling Apart – I loved this one live. He had the crowd in the palm of his hand from the second song in.
Dave and the band came out rocking hard and loud. Alas, he was wearing a dumbass hat (why is he always wearing something during MY shows? Yeesh.) but still looked and sounded great. They played my favoritest song evah (Straight Ahead) and my Tigger-like bouncy motions caused my knee to remind me that I am not, in fact, twelve or even twenty-eight. Thoughts of hobbling home FTL. Fortunately, knees held out but after a three hour drive there, roaming around the boardwalk, a quick shower and then hours and hours and HOURS in the sun, I was done for. Ate dinner and went to sleeeep. But it was a blast and I'm glad I went. And! Bonus – I actually have a voice today even though I sang along at the top of my lungs just like last time. Woo-hoooo!