Is it bad that during a bridal shower when they break out a game of "dress the bridesmaid in a wedding garment made of a roll of toilet paper", all I can think is "Look at all that good and expensive toilet paper going to waste"? Next thing you know, I'll be yelling for you kids to get off my lawn!
To wit: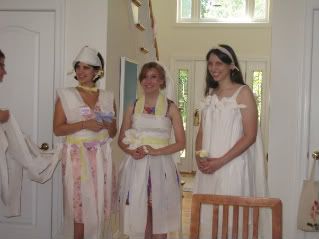 I'm just saying.
Had a busy but nicely so weekend. Next week is the (not-so-bitty) Luke's 2nd birthday. (Luke is Cousin O'Cool's son, FYI) so I'll be traveling again! And in two weeks beyond that, I'm heading to Denver (and Ft. Collins, CO) for C. O'Love's son's wedding. I've never been to beautiful Colorado so I'm excited to go. Plus, weddings, open bar, yada yada yada. heh
And a week (squee!) from tomorrow it's time to stalk the Dave again – this time at the Delaware State Fair. They've been playing some 80's covers ("I just died in your arms tonight" by Cutting Crew – anyone remember that? I do, of course!) so the show will be different once again from when we saw it in VA Beach and from Towson in April. I like that – he always changes things up a bit. In fact, I believe he commented recently that they've not done the same playlist in any show since they started touring in January. So, yeah. Last Dave show (for now *wink*).