You asked for them – and here you are! Some of my favorite pictures from Italy! Oh, Mamma Mia!
Thirteen Photos from my Italy Trip!
1. Since Lauren and I originally planned this trip back in the fall of 2005, Mary brought along the little slip of paper on which La had been jotting our ideas along with the map we bought to figure out where we wanted to visit and something that showed the theme of our trip "Ciao Bella!" and brought it along. I thought it was a nice way to start the trip.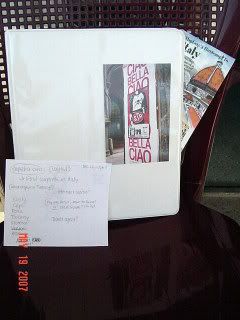 2. When the tour guide tells you "It's easy to get lost in here", believe him, mmmkay?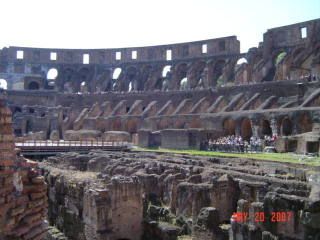 3. Isn't this salad simply beautiful to look at? And it was doubly scrumptious to eat!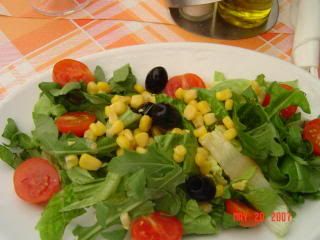 4. Some of the awesome-ness of this ceiling is probably lost in the small pic here but it's GORGEOUS! It's the ceiling of St. Peter's Basilica (where the Pope says mass).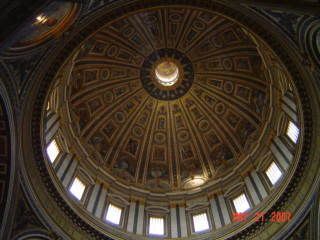 5. Doorway of Flowers – Rome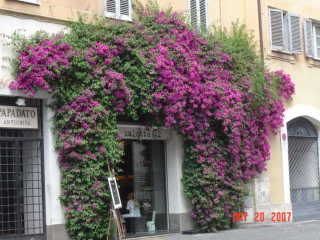 6. You might not be able to see it very well but in Verona, near the area where Juliet (of "Romeo and … " fame) is said to have lived, people write the names of their beloved on the walls of the tunnel leading to her house. They spray paint it on, stick on pieces of paper with chewing gum … all kinds of … uh . .. interesting ways to declare their immortal love. It was a frenzy even trying to get near there … goodness. And not one person gave a rat's butt about Romeo's house, either.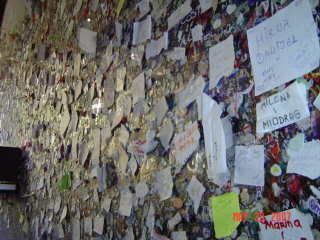 7. I believe this was taken inside the Vatican as you walk toward the Sistine Chapel. All the walls and ceilings are adorned with this kind of artwork. It's just beautiful, truly.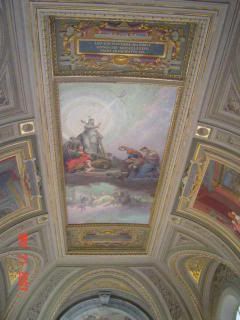 8. Believe it or not, even with all this yummmmmmy-ness, I lost weight because we walked everywhere. Doesn't this look just delish?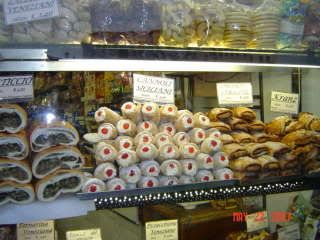 9. In the square near where we ate lunch in Rome, there were all kinds of street performers. If you dropped a few Euro in this young lady's dish, she'd do a little fairy dance around you, waving her wand and sometimes even kissing you on the cheek before assuming her position back on the pink bucket.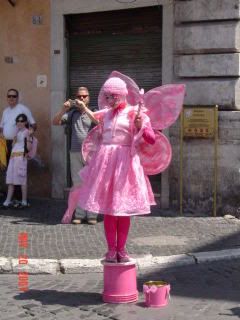 10. I loved the color on this statue of St. Theresa. Most of the other ones we saw were marble and just one color (but had lovely details). This had both color and detail but also really had a lovely energy of peace around it.


11. Proving that I didn't buy everything I wanted, here's a cool wallet with the nifty swirly design I love so much. (Aren't the colors purty?)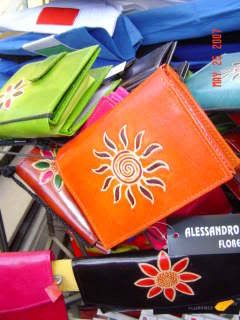 12. I like ceilings of churches, okay? And weird angles too.
Get the Thursday Thirteen code here!
The purpose of the meme is to get to know everyone who participates a little bit better every Thursday. Visiting fellow Thirteeners is encouraged! If you participate, leave the link to your Thirteen in others comments. It's easy, and fun! Be sure to update your Thirteen with links that are left for you, as well! I will link to everyone who participates and leaves a link to their 13 things. Trackbacks, pings, comment links accepted!
View More Thursday Thirteen Participants