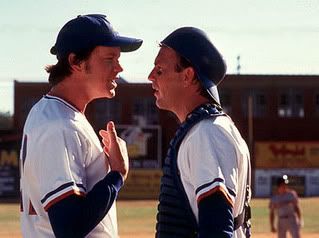 "You just got lesson number one: don't think; it can only hurt the ball club." So, I got lesson number one today at work. Don't think. Just do it. Because I don't make the agenda, see? Bombastic big boss? The one who has his name on the door? He makes the agenda. Not me. Got it?
As you can imagine, it was not a fun day at ye olde place of employ. I guess it's a good deal to get paid to not use your brain, huh? Seems to be. (Sigh) Why can't I just accept that he MUST be in control at all times? I mean, he's the one who makes the bucks, who buys million dollar houses that he's not even living in so he must be doing something right. Me? I don't have all that and I wouldn't want it in a bizillion years if it came with all the mean, yukky baggage he totes around. He is not a nice man + I am not a brainless moron = sad me.
Cheer me up, willya?