Did y'all think your cable had cut off, too? Duty and I just stared at the tv screen waiting for something to come back on. I thought "what a crap time for cable to blow out!". LOL
I've been a Sopranos watcher since the get-go (well, end of Season 1 – rented the eps and LOVED it immediately). The years between episodes and the lack of interesting eps when they were on makes anything after season 4 a faint memory for me. But the early eps were like nothing I had ever seen before. And James Gandolfini, weird breather though he may be, is still my alpha male of choice.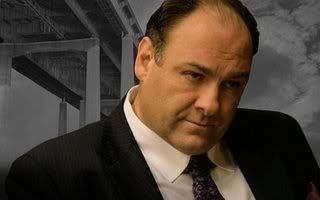 The TWOP forums are all abuzz with peeps loving and hating this last episode. I had no expectations so I was fine with it. Either way, you take what you gets, right?
Don't stop believin', T.