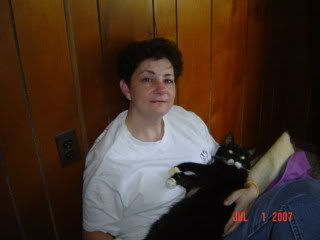 My sweet Midgie passed away today after a short battle with cancer. He was able to eat a bit more over the weekend and got lots of loving. My last words to him this morning was "Mommy loves you" and I'm glad he knew that. Duty took this pic yesterday and as you can see, I'm looking just ever so slightly teary. Regina said that Midjull was teaching me some lessons I will need as I go through this process with others (as seems to be part of my path) and so for that and MANYother things, I thank my little midgie. A wall has truly been licked in your honor, baby.
Tell Lauren and Mom I said hi, K? And remember that I can hear you no matter what plane of existence you are currently riding. You were my first voice and I know I will have it in my head always. ("I'm a cat. I. AM. A. CAT" And so you are.)
Edited to add: Love and enormous thanks to Regina and Kenny for allowing Midjull's final resting place to be on the beautiful and sacred grounds at Light Paths and especially to Kenny for building him a beautiful wooden box where he could be laid to rest. They are tremendous friends, indeed.