Just for a bit of closure, I thought I'd write a few interesting things about Midgie to share with you his goofy but loving personality.
Thirteen Things about the Midjull of Love
1. Midjull started his life named Mike after then Baltimore Orioles pitcher Mike Musina. Cousin 'O Cool was staying with me right after the kittens were born and being a huge (and somewhat insane) Orioles fan, named him. Somehow, it permutated into Midget because he, like, wasn't one (ha!) and then into Midjull. No idea why but that name stuck.
2. He was one of six cats from a litter my mommy cat (aptly named "Mommy") had. Three boys, all big and black and white. Three girls, all yellow tabby cats. He leaves behind his brother Stimpy and sisters Cindy and Lucie. Stimpy and Cindy reside with the Cousin 'O Love and are almost identical looking to Lucie and Midjull.
3. Cousin 'O Cool and I, not having grown up with cats, were unaware that it is customary for the mommy cat to move her litter to a more out-of-the-way place a bit after they are born. So, when CoC saw Mommy totin' the kitties, she called me at work (she was 13 at the time) and I said that she should get them and bring them all back down. She did. Mommy wasn't too happy about it and started toting them again, one by one up 13 steps (probably cussing us out the whole way!). When we caught her doing it, we must have startled her because she managed to drop Midjull down the steps. That probably accounts for a lot of his more unusual mannerisms.
4. Mannerisms like, oh, licking the wall incessantly or chewing on my hair as I slept. Or following me into the bathroom for some serious one-on-one time. Once, he followed me in there at night and I forgot he was there, left the bathroom and closed the door behind me and went to bed. Next morning when Duty went in to take a shower, there was the MidgeMan looking at him like "Hey! Who locked me in here??"
5. I sometimes think he had a "cloak of invisibility" because he hid from me and Duty in a completely empty house and we couldn't find him for ANYTHING. We looked and looked and looked for him and I am not kidding, there wasn't one stick of furniture, clothing or anything left in this house and there was neither hide nor hair of Midjull. I said "Well, let's go grab some lunch and maybe he will re-appear". Sure enough, he was waiting for us at the top of the steps when we returned. Goofball. I think that was part of his "Can't see me" repertoire.
6. And now, a picture (and the funny thing about this is that Murphy (cat in background) and Midgie didn't like each other much but for some reason, didn't realize they were sharing the same chair. So, they'd sit together until one or the other realized who it was sitting next to them and freak out. What dopes!)
7. My cats always slept with me, much to the chagrin of my paramours. One of them pretty much told me that either I slept with my cats or I slept with him. Yeah. The cats won. Midjull used to sleep next to my head and he'd put his paw on my hand, like we were holding hands sometimes. How gay, I know.
8. He had a particular fondness for Paul Mitchell hairspray. If I used that, I was sure to find him on the top of the sofa, just purring and licking away at my hair. Sometimes he'd even chew a bit on the hair. If only he could have chewed on the exclusively gray ones, eh?
9. He was the one cat that chirped at me when I'd say hello. We had a language all our own. And as I mentioned several posts down, his voice was the first one I heard when I realized I was clairaudient with animals. He was also the one that was my most "spiritual" cat – always hanging out with me when I was meditating or praying or whatever. Even now, in spirit, I know I will find him around somewhere.
10. Another picture! This one is Midjull and his sister Lucie:


I wish I had a scanner – I have such a cute one of them when they were kittens where he's got his paw wrapped around her like he's holding on to her. Awww.
11. Duty and I used to go to Delaware for the weekend several years ago. When we got home on a Sunday night, I'd put some soft food out and the kitties would come running. This one time, no Midjull. Since he's known for his disappearing acts, I didn't think too much of it but after about 30 minutes, still no Midjull. I looked everywhere in the house and couldn't find him at all. Duty went asking the neighbors if anyone had seen him but I thought that was inane since the cats never went out. Sure enough, the doofus (Midjull, not Duty!) had somehow escaped as we were leaving and had been sitting out on the fence in the back all weekend! It was October and a bit chilly so the neighborhood kids had put a little blanket over him. I don't think he budged that whole time out of fear. I had to climb on a box to reach up and get him down. Every time after that, we always made sure we saw him before we left for a weekend. Houdini, indeed!
12. Don't tell Lucie and Murphy, but Midge was my favorite. I'm glad I got a chance to love on him a LOT before he moved on. I got a feeling he was hanging on for me and told him Sunday night that if he needed to go, I would be okay. And as you see, he departed soon after. (I miss him more than I can say in words.)
13. Here's his last "formal" photo – taken in his most favorite place – the bathroom. Peace out, meMidjulls. I loves ya.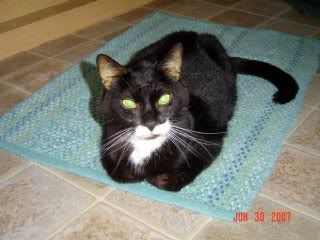 Get the Thursday Thirteen code here!
The purpose of the meme is to get to know everyone who participates a little bit better every Thursday.
View More Thursday Thirteen Participants