Happy (mumble mumbleth) birthday to my own double cousin, Mary (known on here as Cousin 'O Love). She gets her very own Thursday 13 for her birthday treat (and cake too, I suppose).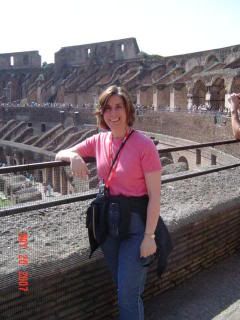 Thirteen Reasons to celebrate the Cousin 'O Love!
1. She is like a sister to me. Her mom and my mom are sisters and her dad and mine are brothers. We have the same family on both sides. It's kind of cool.
2. Speaking of family, she's alllll about it. She carries on the traditions like a champ, makes up some of her own (being late to everything!) and really is the glue that holds things together. If you need her, she's there, period. No questions asked.
3. Her management skills at work are par none. She is an intuitive manager, knowing what people need, when they need it and she navigates the waters smoothly. I'd love for her to be my supervisor although she's probably not be as fond of that situation.
4. She's really smart without coming off as too brainy or nerdy. It's an understated intelligence, a trait that both her daughters share.
5. Mary is an unabashed fan of Celine Dion and is amazed that others don't feel the same. (Quelle horreur!)
6. She loves and accepts people just as they are. You don't have to put on airs around her. You can just be you (even if "you" is talking her to damn death and allowing her to clean your room. Just sayin')
7. Mary truly "walks her talk" as did her sweet daughter Lauren. Never one to speak out of both sides of her mouth, she lives her life true to her values. She's one of a rare few I know who do.
8. She is amazingly generous to family, friends and co-workers.
9. She is, unequivocally, one of the strongest and most courageous women I know. She will blush at this and say "no, I'm not", but she really is. During the last two years of Lauren's life, Mary was with her every step of the way. Her grace and strength not only during that time but as she continues forward in her life, amazes me.
10. Lest you think she's, you know, like "perfect" or something (ha!), here's something she cannot do terribly well: dance. It must be the Celine gene or something but she never was one to get out there and boogie down. Maybe she will work on that for next year's 13.
11. She's crazy enough to do the blogathon with me for the past two years. (And, as she will tell you, she blogged for 17 hours, drove a hour and a half home, went to mass, worked 67 hours and then made a dinner for 15 strangers – what a gal, huh? LOL) Okay, I lied on the last two things but so what? You get the picture.
12. She proudly drives a buick while marveling at the irony that her 79 year old mom drives a Jag.
13. She's one of my best friends and I hope we grow old old old together so we can be like Grandma and just blurt crap out at will. heheh
Love Love and Love on your birthday, girly! And many more!
Get the Thursday Thirteen code here!
The purpose of the meme is to get to know everyone who participates a little bit better every Thursday. Visiting fellow Thirteeners is encouraged! If you participate, leave the link to your Thirteen in others comments. It's easy, and fun! Be sure to update your Thirteen with links that are left for you, as well! I will link to everyone who participates and leaves a link to their 13 things. Trackbacks, pings, comment links accepted!
View More Thursday Thirteen Participants