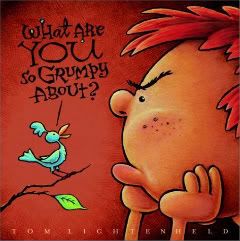 Well, I AM grumpy so why not blog it out? Surely you've heard about "hugging it out" right? Consider this the Snarkypants version of that but calling it "whining it out" instead.
Let's go, shall we?
1. It seems to me that I am surrounded of late by people who are so freaking self-involved that they cannot be bothered to ask how you are. It's always all about them. I know it sounds sort of hypocritical to say "no, wait. Ask about me." while calling them self-centered but there you are. The world really does exist outside of your little box, okay? And sometimes, it's nice to give a shit about others in case you might, you know, need them some day. Yeesh.
2. This is a huge peeve: People on discussion websites who begin their comments with "Sorry, but blah blah blah …" I hate hate hate that whole "Sorry" part. Just say what you have to say and get on with it, for fuck's sake.
3. Sorry, but this just irks me. (HA! See, I can laugh at my own self!) If you park under the building and have to walk 3 steps into the office, you do NOT get to complain about how cold and horrible it is outside. Try parking 4 blocks away and having to walk on a sheet of ice while trying not to get hit or splashed by cars careening down the road. I shall no longer give you any credibility, people in my office who do this.
4. How come every time I'm in a store and looking for something specific, when I find it there are people standing right in front of it contemplating their navels? Sure, I could say "Excuse me" or you know, "Get the hell out of my way" or something but I just fume silently and send them hateful glances. This really isn't very love and light, I know. Should I go to confession for it? "Bless me Father for I have sinned or something. It's been 30 years since my last confession. I spent the afternoon sending bad ju-ju to the fuckwits standing in my way." It's going to come back to me in some fashion, like perhaps someone tall standing in my direct line of sight at a Cookie concert. Dammit.
5. It is of my own making, yes. However, I cannot go ANYwhere without my pets either whining for attention (Sophia) or pestering me for food (Max and Lucie). Food = love in my house so the two downstairs can barely waddle to the food bowl but still they want more. Leave me alone for 3 seconds!
6. Small talk – hate hate hate it. I can only do so much of that BS "How's the weather?" crap and then I'm either digging into your life as a child or not talking to you at all. Unfortunately, most people are quite content with the weather crap.
7. Life off the cleanse is less fun than life on it. I had energy, joy, and all kinds of trippy stuff. Now? Emo anger and angst all come bubbling to the surface. I know that's part of the point of it but I miss my comfort foods AND the amazing high of the cleanse.
8. Even though I know I can't "fix" someone, I kinda want to. And yet, the only person I can "fix" is myself and that's much harder. If you want to be fixed, can you let me know? Maybe you're a fixer too and we can trade off trying to fix each other. Who's with me?
9. The same person who does the loathsome #1 issue is also someone who represents my "shadow side". Let me tell ya, this "being conscious of stuff that comes up deal" is hard work. Everything I think something crappy about this person, I recognize myself in it. (I still get pissed at them though.)
10. While I was doing the cleanse, I couldn't hang out on the political sites much because the vibration of the arguing and stuff was way too low for me. And sometimes, I feel like they are all preaching to the choir. I think most people just like to hear themselves talk (said she who has a blog for the express purpose of hearing herself talk.)
11. We have a 2 year old unused heavy bag in the garage because Duty says my crap is blocking the bag. If he really wanted to use it, he'd move the stuff. Does he? No. So, the bag sits unused. Today is a day where I'd get some good use out of it myself. (Contemplates moving the stuff and thinks better of it. Notes that she can do it another (warmer) day.)
12. I am actually quite spoiled. While others have to clean off their own car of snow and ice in the morning, Duty does mine as he leaves for work. Although, let it be said that I've done his as well when I left earlier. Isn't that what you're supposed to do? Maybe I'm *not* spoiled. (The three Cousins of mine who occasionally read this here blog are laughing their collective asses off and saying in unison "You've always been spoiled". I hear them now. I said I HEAR YOU! hehe)
13. I mellowed out about #6 didn't I? I think I spewed all my hate for a bit. Do I feel better? Kinda sorta. (Can I have my comfy food back now please?)
(Picture taken from the cover of the book: What Are You So Grumpy About? by Tom Lichtenheld (c2003))