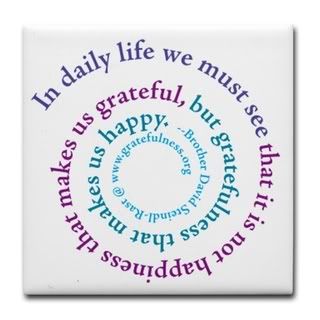 So, I've been feeling very peevish this week for reasons I don't even understand myself. Grumbly, out of sorts, annoyed, bored, sad and pissed pretty much sums the week up for me. My angels aren't being too helpful – I think I'm supposed to figure this one out myself, unfortunately. To that end, I decided I'd write about some of the really nice things in my life for which I am most grateful to remind my own self of all that I have because sometimes, in the middle of pissiness, it's easy to forget that.
(I am also into lists this week. What's that about?)
1. My body: I am probably the healthiest person I know. I rarely get sick at all (colds, flu and other maladies seem to float right on by me) and so I'd like to claim my undying gratitude for a kick ass healthy (if not the slimmest) body around. YEY!
2. My every-day pen-pal: Even when we fight over politics or have one word conversations (usually calling each other names), I look forward to talking with you. But don't call me Cougar, dammit!
3. A job that still pays well even if it's 10 hours less pay a week: Really nice people who appreciate me and will eat Thai food with me anytime I want it, easy work and a steady paycheck. Universe, I thank you for this gift.
4. All 3 of my readers who faithfully leave me comments. I am especially thankful for The Gal who continues to give me blog fodder since I'm bereft of ideas on my own.
5. The David Cook Fan Universe because I've met some really nice people as a result of having him as my sekrit boyfriend (he's their SB too, apparently. We aren't greedy.) It's been a lot of fun to share my obsession with others (who are even more into it than me, if you can believe it!) and squee to our heart's content over stupid shit. It keeps me young. (Plus, arm porn FTW!)
I think I might do this every Friday to keep the whining in check. What are you thankful for today?