… and you're still standing.
I was so annoyed at work today, I can't even begin to tell you. I swear I am turning into an ogre there. First off, here's the deal. Everyone and their brother brought in the leftover Halloween candy for the community (and client) candy bowl which is kept right outside my area. I've been refilling it each morning with a nice selection of what's available. Most people rummage through and find something they like. However, one of my co-workers decided that she needed to look in the BIG BAG and see if there was anything she liked better. The BIG BAG is in the file cabinet in my secured area. Well, alright. Whatever. The thing that really pissed me off was that she decided that I needed to get her the bag right as I'm in the middle of five things. Could you fucking wait three seconds and/or be less greedy about your candy snarfing? (I know. This is the rant of a five year old.) Admittedly, I did not hide my annoyance well and for that I'm (sorta) sorry. Jeeez.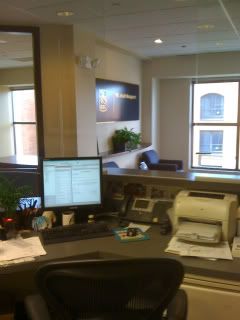 See?  This is my work space – open to the public. That ledge right there? That's where clients come in and hang right over and watch me work as they are waiting for their broker.  I hate that.
Now that you have a picture in your head, I'll continue.
So, one of the brokers chose to have a LONG and drawn out conversation with some dude by the elevator which (in)conveniently is right next to my desk. Phones are ringing, people are begging for the BIG BAG 'O candy and I have to hear the entire conversation. I felt like I had walked into a very boring Yahoo chat room.
I'd be a much more productive employee if I had my own office somewhere and didn't have to deal with all these distractions. Heaven knows I have enough of my own (good) distractions that I don't need everyone else's too. Is it rude to send an email asking people to have their little conversations off in a corner somewhere far from my desk area? I know. I know. GRRR.
/whining (for now)
*Yes, they are DC lyrics so just shut up.