Dearest Darling Queen Mimi had the nerve to claim COOKie as her own sekrit boyfriend:
P.S. We have the same secret boyfriend. Mr. Cook is mine. Just sayin!
and I feel I must set her straight.
Did she:
* dial for four hours straight the night of the finale?
* stand online for four hours in the August sun to meet him for three seconds (most of which I stuttered through)?
* attend every concert within three hours of here this summer? (Four of them, to be exact)
* drag her ass 3.2 miles in the rain for brain cancer research?
* buy copies of his cd to give as gifts?
I rest my case. I'd go on but I've already embarrassed myself beyond what I normally do for this blog. Can't have you peeking too closely into my inner world, you know.
Therefore, I claim him as my sekrit boyfriend even though I am neither younger, blonder nor thinner and cannot possibly be what seems to be "his type". That's why it's a sekrit – he never has to know!
I was pondering this while I was snowbound this weekend: would it be easier to be Cookie's girlfriend or Hal's?
On one hand, Dave is young and fun – like a puppy. He's got a tender heart and there's really no one who has met him that doesn't like him. He falls in love easily, I'm betting. (Especially if you're
this chick
. Really, Dave. What were you thinking?) But, you'd have to contend with a ZILLION jealous fan girls waiting to either say crap things about you or steal him from you. Being his girlfriend is not for the insecure. (So, yeah. That's not me.)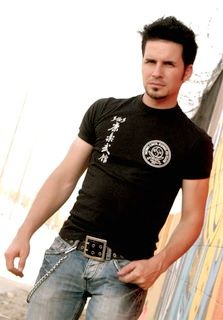 Hal, on the other had, at 40 has been around a bit. And while there's a bit of puppy playfulness about him, there's also an awesome mind full of facts and ideas and funny stuff. This intrigues me. I couldn't hope to keep up with him but it would be interesting trying. So, while I'd be lured by his mind, his humor and his arm porn (second only to Cookie's), there's the fact that he's hard core straight edge which means no drinking (see? I couldn't get him drunk and take advantage of him), no smoking (fine with me) and … he's vegan. Now, he's not pushy about any of it from what I can tell but there's no way he'd hang with cookie-snarfing me. Just no way.
What to do? What to do? In my case, nothing. I'll just continue to adore them from afar and revel in pictures of arm porn, fanbases and smiles. Oh, Gal, btw – Hal actually DOES sing but it's some thrash metal and I cannot judge how good it is because I am old and it all sounds like noise mostly. Check this out – it's the acoustic version of "She waits" – it's really, really good. Not metal at all.
Bottom line: I love them both (one a little more than the other, as you know) and am happy to be a fangirl of the highest order. And yes, I'm dragging my ass for hope again this year (hopefully NOT in the rain!).