Posts in category
Blogathon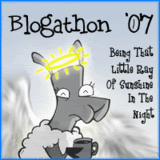 Marathon blogging is over for another year. We raised over $400 for ChemoAngels. Woo Hoo!
Thanks to all who came and stopped by and said hi, or emailed us or
called us at 3 in the morning (you know who you are!)
Interestingy enough, out of all the bloggers raising money for their
favorite charity, we were the only ones donating to Chemo Angels.
Hopefully, we were able to raise awareness of this organization. The
volunteers who comprise Chemo Angels do wonderful work. A handwritten
note of encouragement is usually just what a person undergoing
chemotherapy treatments needs to lift their spirits and get them through
another day.
There are other ways to donate to the organization. They refurbish old
cell phones, participate in the printer ink cartridge recycling and hold
fundraisers from time to time.
See below the fold for more information.
For now, that's it from us …. see you next year???