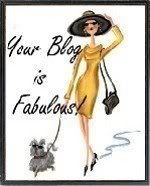 The Gal Herself bestowed this award on yours truly but something this awesome does not come without rules, you know. Â I have to list five (5!!) fabulous facts about myself.
So here goes nothing!
1. Â I can be surrounded by piles and piles of clutter and be bothered not one bit. Â But let me see ONE misplaced apostrophe and it will just set me off. (I'm not sure that's such a faboo thing about me, now that I think of it.)
2. Like Gal, I rarely get lonely.  As an only child with a sick father, I learned to be comfortable with just my own company. Too much time spent in anyone else's energy and I get kinda squirrelly.
3. Â And adding on to that, I know it's weird but I prefer to sleep alone (or with my cats). Â I can't stand anyone's snoring and just like to be on my own. Been doing that for most of my life (sleeping alone, that is) and it makes me happy. Â Previous boyfriend said I could either sleep with him or the cats but not both. Â I got him a nice bed in the other room. Â (This is all true.)
4. Â I love love love new notebooks and colored markers. Â In fact, I started writing in my journal in colored markers because it all flowed out much easier. Â Pens limit me. Markers free me.
5.  I'm learning to let my dorky twelve year old sit in the passenger seat and the High Priestess gets to drive.  It's very scary and there's a lot of  … feelings … I have yet to sort out about it but I think in due time, HP and the 12yo will get along fine.  (A nice lady at work – you know, the rich one who loves to give me beautiful jewelery? She brought me back the coolest necklace – and I have christened it my "HP of the Woo" sacred necklace.  It's light, airy, and really neat.  Will take a pic and post it soon.)
Anyway, I am passing on this award to my favorite bloggy peeps:
The Gal – even though she's already gotten it and has done her homework – I love that you update so often and I always read between your lines and know when you're happy or sad or just mopey. Â Can't wait until we meet in March!
Best friend Kara over at Conduit of Joy – you're fabulous for putting yourself out there even when / especially when it's scary. Â I asked the Universe for a best friend who spoke the woo. Â You are all that and more. Â Thank you for being YOU.
Mystical, Magical Jody – midwife to fledgling writers and spazzy intuitives. Â I think you are one of the coolest peeps I know. Â I can't wait to meet you in person. Keep on writing and I'll keep reading!
I'm also sending props out to two non-bloggers – both of them named Christine!
Niece of Artsy-Fartsy Christine – I love you more every day. Â Thank you for being one of the sane members of the Tribe and making me feel loved. Â You are fabulous – just as you are. Â JUST AS YOU ARE. (/bridget jones)
LiveAfloat Christine – always smiling that sweet smile – laughing with me at Pilates, being a Woo Woo guinea peeg, and just being a fabulous chick in your own right. Â Love love love you!!