Title: Were ya worried?
(the header thingy is not working – again!)
Chello, peeps! Despite not updating for almost a week, I can say with all certainty that I am, indeed, still alive. YEY!
Every once in a while my second chakra gets clogged and I lose all ability to be creative and so SP goes dark. I'd love to shift the blame for that to someone/thing else but I can't. It's all mine.
Here's a bulleted list of what's been consuming my time this past week:
* Pilates: I love it! I cannot believe I've found something physical that totally takes me out of my head and plops me square into my body. The teacher is wonderful and I have such fun in the class that the hour flies by. It's a bit pricey compared to a gym membership (10 weekly classes for $250) but even if I do it for just ten weeks, I think I will get a lot of benefit from it. I suspect it's an integral piece of my growth in the coming year. I have to learn how carry big energy – just not through my body (think: expanding waistline).
* Angry Birds: Damn addictive game. I think I play this for about 35 minutes every night before bed. Curses to the girl who does my nails for hipping me to it. Is there an Intervention for Angry Birds??
* Speaking of Intervention – I love that show (unless they are showing heroin addicts shooting up through their toes. Eww!) We are fortunate to have no addicts in the family (food issues are a whole 'nother thing for our group, though) so watching people go through this is fascinating to me. (That's because it's from the safety of my bed. I'd really hate all the attendant drama if it were real life.) The psychology major in me loves hearing the backstory – the things that caused the person to use drugs. Clearly I'm not alone in my addiction to the show: Fred Armisen over at Funny Or Die.
*My new candid reality addiction? Heavy. It's not at all exploitative and I can relate to their stories (sadly). Don't judge. At least I provide linkage, right?
* Exciting news! I am going to be working directly with Andrea Hess on her new program called "Inspired Income Mastery" In addition to the program itself (which looks hella cool), she offered a mentoring option to have six sessions with her on the phone. It's a fabulous opportunity to get coaching/mentoring on a personal basis so I snatched it right up. Of all the teachers I've had, Andrea is the one that's impacted me the most in practical day-to-day work. My goal this year is to get Practically Intuitive out there in full force so I can leave that really exciting and fun day job and fly! This is one step closer to that goal. Hold on to yer hats, kids!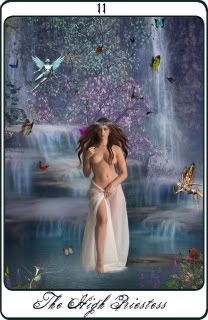 (Damn, I wish I had her boobies. Just pretend this is me because in my fantasy life, it is! heh)
Finally, I'm coming to terms with stepping into the full energy of what I have chosen to do in this lifetime. (Sounds sooo serious, doesn't it??) Someone close to me calls me the "High Priestess of WooWoo" and I realized that I carry a lot of "high priestess" energy but it's always been hidden. Making that part of me fully visible requires courage and a willingness to stop hiding. I'm probably not explaining it well but that's the energy I was talking about above – the one that I can carry with me – just not in my body.
When I put the intention out there to the Universe that I wanted PI to be fully sustaining by year end, I also accepted the work that goes with it. Not only are the energies speeding up in the macrocosm, but here in the microcosm as well. Look at all the shifts that have gone on in the country just since the beginning of the year. Things are speeding up, energetically. Lots going on that we cannot see but will impact us greatly. So, I've chosen to move with it and work on stuff that's in my way now so I can fully and completely bring into form the intuitive practice I've been longing for. Wish me luck!
Whew! Lots to say, hmm?
** Picture from Deviant Art